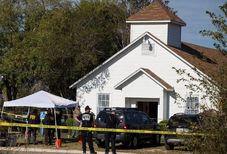 There will come tragedies, crashing in upon our lives, reminding us we live in a broken world full of broken people who do horrible, unspeakable things. Sutherland Springs is that kind of tragedy. It brings a painful reminder that in this world, there is no sanctuary from evil. Even while we worship and pray, hatred and violence and the worst kind of evil can find its way to us. This is life in a broken world.
It's also a reminder that with praying and worship must come vigilance. Jesus did not tell us only to pray, He told us to "watch and pray," signaling the reality that evil is near and we must be ready. While we grieve the tragedies of Sutherland and mourn with those who are suffering, we must also learn from it. There is a "New Normal" facing the church today, and here's what I'm learning.
If it happened in Sutherland Springs, it can happen in my church.
Fox News reported
Texas Attorney General Ken Paxton gave a dire warning in the wake of Sutherland's tragedy. "This is going to happen again," he predicted.2 Unpreparedness is no longer an option for churches. For too long, we've comforted ourselves with the notion, "If you're blessed, you won't be harmed." But the reality is Saul threw spears at David, Daniel was thrown to the lions, Paul was beaten half to death and Jesus was nailed to a cross. Bad things happen to good people—to God's people. Church leaders must realize the dangers facing churches today are real, and the worshipers in our sanctuaries may become targets.
If it can happen in my church, I must take measures to prevent it.
Every church must have sound, reliable security measures. Whether it's a volunteer team of competent individuals led by a trained and qualified professional, or hiring an armed security guard, every church needs to be seriously prepared for the worst-case scenario. It should be part of the 21st century church culture. Just like having ushers, greeters and a ministry of those who pray, every church needs to have a ministry of those who "watch."
If I'm going to prevent it, I'm going to need help.
Implementing a security ministry is not something that should be thrown together haphazardly. Although their intentions may be good, most lay people in the local church are not properly trained to develop and supervise a security ministry. In fact, their over-zealousness may present more problems than solutions. Consult with local law enforcement. Hire a
security consultant
. Perhaps there are retired police personnel in your congregation who could be utilized.
There is a new normal in the church and leaders must adapt. Of course, we believe that God protects us from evil, but we also realize that God will not do by miracle what we must do by common sense. If we know that danger is approaching, we have a duty to prepare and prevent it. The point is this: do something. Inaction is irresponsible and leaders who fail to prepare, fail to lead.
(If you need help in assessing or developing your church's security ministry, I highly recommend
www.prosecuritysolutions.biz
. Their chief consultants will provide you with excellent guidance as you adapt your church to the new normal.)