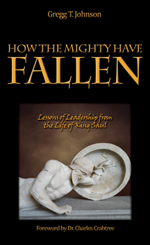 Saul said to his armorbearer, "Draw your sword, and thrust me through with it, lest these uncircumcised men come and thrust me through and abuse me." But his armorbearer would not, for he was greatly afraid. Therefore Saul took a sword and fell on it. And when his armorbearer saw that Saul was dead, he also fell on his sword, and died with him. So Saul, his three sons, his armorbearer, and all his men died together that same day.
-
1 Samuel 31:1-6
Saul killed himself. Overrun by the enemy, his army crushed, and mortally wounded by arrows, Saul took a sword and fell on it. Indeed, the enemy had overpowered him, but in the end his death was his own doing.
It was a tragic end that serves as a metaphor for all leaders. We must take heed lest our success be our undoing. The saying is true: "With higher levels come higher devils." Leadership will destroy the man (or woman) whose character has not been prepared for it. With advancement, promotion and enlargement in the Kingdom of God comes fiercer attacks, harsher resistance, and more intense warfare. The battle gets tougher the higher you go; and leaders must be aware that in the midst of such intense warfare there is a danger to fall on their own swords.
Proverbs 5:22-23 reinforces this concern by warning:
"His own iniquities entrap the wicked man, and he is caught in the cords of his sin. He shall die for lack of instruction, and in the greatness of his folly he shall go astray."
The warning is clear: men are often ensnared by
their
own iniquities
and
the greatness of their own folly
. In other words, our concern should not just be for the traps the devil is setting for us and the arrows he is shooting; we should be equally concerned about the traps we are setting for ourselves. We leaders need to be careful lest we fall on our swords in battle.
The context of Proverbs 5 gives us great insight into the number one cause of so many fallen leaders: sexual sin. Proverbs 5:20 plainly says,
"Why should you, my son, be enraptured by an immoral woman, and be embraced in the arms of a seductress?"
It is an issue as old as leadership itself: the most common way that leaders self-destruct is sexual sin. More and more we hear about good men who have committed adultery or partake in pornography and are falling on their swords. It's not only the arrows of the Philistines killing them, they're killing themselves. Good men fall into sexual immorality, not because of the devil's traps but because of the traps they have set for themselves. The paths they travel, the practices and policies they have, instead of keeping them safe, expose them to dangers, snares, and falling on swords.
A survey by
Leadership Magazine
showed 40 percent of pastors regularly struggle with pornography. Other research reveals that 37 percent of pastors have been involved in inappropriate sexual behavior with someone in their church. Even more alarming is a 15-year study that revealed approximately 10 to 12 percent of ministers have engaged in sexual intercourse with members of their congregations. Sadly, these statistics indicate a growing promiscuity in ministry that is reflective of our culture. Wayne Goodall, in his book,
Why Great Men Fall,
revealed that 25 percent of wives and 44 percent of husbands have had extramarital intercourse. As is true with church leaders, many of their affairs began at "work." Fifty percent of unfaithful wives were involved with someone from work and 62 percent of unfaithful men likewise met their affair partners at work.4 Indeed sexual promiscuity is occurring in epidemic proportions in our day.
So as we see Saul slumped over on the battlefield, a sword sticking into his chest, we should be concerned, not only about the arrows the enemy shoots at us, but about the traps we set for ourselves. It is not Satan who is causing pastors to fall into adulterous affairs; pastors fall because of their own folly. They fall because of careless professional ethics and negligent standards of personal purity.
Throughout scripture we see examples of leaders who battled the arrows of sexual temptation. Some overcame victoriously, others self-destructed. In my latest book,
How the Mighty Have Fallen
, I deal with this issue exhaustively. Drawn from chapter ten of this book, the next series of blogs will address this issue of maintaining sexual integrity in ministry and leadership. If interested in getting your own copy, you can
order here
.