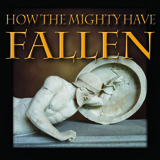 This is an excerpt from chapter four of "How The Mighty Have Fallen." Follow this link to order your copy.
He was the most revered and powerful man in Israel. An entire army obeyed his command. No one compared in status, wealth, and respectability. Yet, by his own admission, Saul "feared the people." As a result of this condition, God deemed the king unfit for leadership and prophesied the removal of his authority. The lesson is clear: in the Kingdom of God it is impossible to lead people when you are afraid of them.
God gave King Saul a clear vision of His will. The Amalekites were to be utterly destroyed as retribution for their mistreatment of Israel years before. Man and beast, woman and child, none were to survive.
Apparently, en route to battle, someone had an idea: "Let's save the plunder, sheep and oxen, and offer them as a sacrifice to God in Gilgal. And while we're at it, let's spare King Agag; he seems like a nice enough fellow and could be a good friend to us." The idea had wide appeal and general consensus determined that destroying"everything" was unnecessary. The result was a new vision—one more suited to the preferences of the people.
The essence of leadership is to confront status quo and pull the people to "the place they ought to be." It often requires the leader to challenge unhealthy cultural norms in the face of disagreement and strong resistance. Although he may be misunderstood, maligned, and even mistreated, it is in those times the leader simply must lead!
This is exactly what Saul could not do and what disqualified him from leadership. He feared the people, consented to their rebellion, and permitted Agag to live. Samuel would soon teach him that to condone wrong behavior, even tacitly, is to bear as much blame as those who commit the evil blatantly.
The nature of leadership is to stand out in front and call others to a higher place, but this spirit causes leaders to lag behind with apathy and malaise. When they should be pointing the way, challenging the prevailing attitudes of mediocrity, this spirit induces leaders to sit idly on the sidelines with hands in pocket blending into the background of status quo.
Leadership is not just having a title. It's more than sitting on a committee. Leadership is about movement and change and influencing people toward a certain direction. To lead is to be in the "place" God wants for His people and then "pull" people into that place by the power of one's own passion. It is having such an effect on people that they take ownership of the same attitudes, values, and convictions of the one leading them. Sadly, many believe that because they have a respected title or attend meetings that they function as a leader. They are mistaken. Pastors who fill churches but fail to produce cross-carrying disciples are not leading. Trustees who manage a place of worship but do not show people how to worship in that place are not leading. Deacons who affirm their belief in prayer but do not attend prayer meetings are not leading. Elders who "amen" their agreement with the concept of holiness but do not openly demonstrate repentance and display a passion for personal purity are not leading.
Leaders are"first." They do not wait for an invitation or rely on encouragement from their peers. They lead. Leaders are the first ones to sacrifice, the first ones to give, the first to pray, worship, repent, and weep over sin. They are the first to serve, the first to shout "amen" and the first to the altar for deeper consecration. Leaders constantly look behind at the ranks that follow and challenge complacency by the force of their own example. They do not wait for someone else to determine the environment. They decide how the environment should be and set out to change it. Culture is every leader's battlefield, status quo is the enemy and victory is decided by the transformational results of their influence.
True leadership can be likened to a thermostat regulating the temperature of a room. If the spiritual climate of a house grows cold, the leader turns up the heat by the intensity of his own passion and converts the environment to his own character. On the other hand, leaders having gone the way of Saul are more like thermometers. Instead of influencing the environment, they are influenced by it and conform to it. When watching the character of a Saul, one will not see a passionate example of where God is calling His body to; instead, one will see a mere reflection of the tired lukewarmness that has gripped the community and is destroying it.
It's time to confront the spirit of Saul in the church today. It's time to slay the Agags and slaughter the sheep and lead the people into full obedience of the Word of God. Will some people reject this standard? Certainly! Will some people leave and find another king to follow? You can count on it. But the people who stay will be those who are serious. There may only be twelve of them. But with twelve disciples, sold out for Christ, you can turn the world upside down!