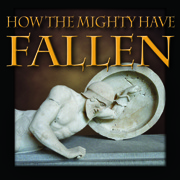 "Never is integrity more on trial than when one is out of sync with his leader. Loyalty in times of disagreement is the truest test of character."

Never is one's character more on display than when he is out of sync with his leader. It may be a season of patiently waiting; it may be an issue of disagreement; it could even be a matter of disrespect and contempt that one holds toward his authority. It any event, it is how one responds to his authorities in times of disparity that reveals the true quality of his or her character.

True submission is demonstrated, not in times of agreement, but in seasons of disagreement. In fact, there is no expression of submission without the context of disagreement. Without disagreement, submission is merely compliance. There is no need to restrain one's impulse or force one's obedience; one needs only to agree with that which he already views favorable.

On the contrary, it is one's ability to resist that surge of disagreement rising in one's heart—it is that discipline to quell an impulse of assertiveness against the leader that proves true submission and the presence of real humility.

Consider David before he became king. No one was more wrong than King Saul and no one was more right than David (1 Samuel 18). In fact, Saul was spiteful, bitter and influenced by evil spirits. David, on the other hand, was singing psalms and killing Philistines. But David never lifted his hand against his authority. The one time David did act against him, he felt great remorse and publicly repented (1 Samuel 24:6).

In those times when the authority is wrong, God is not looking for your help. He is more than able to work all things according to His will. More often, God is trying to work out issues of character in His future leaders—issues such as submission, humility, and faithfulness. Sometimes He does that by putting you under a Saul.

This is not to say, however, that Christians should never disagree with or challenge the authorities over them. Spiritual leaders are not authoritarian demigods wielding absolute power in the name of Christ; they are mere people—infallible flesh that often makes mistakes and exercises severe lapses in judgment. As such, there are times when leaders should be challenged. The question is "how" such authorities can be challenged without compromising our own humility and sense of integrity.

If you have a concern, there are ways to address it righteously.

The first way is through intercessory warfare. Pray! God may have burdened your spirit with an issue or given you insight on a matter—not so you can call everyone on the phone and tell them what the authority is doing wrong—but so you can pray with fervor, wisdom, and divine unction. Ezekiel 22:31 says that God is seeking for men and women to stand in the gap. He is looking for intercessors to pray. The way He finds them is by burdening them with revelation and seeing who will be faithful to call down His will. It is my conviction that no one has a right to speak on a matter, criticize a leader, or canvass for change until they have first spent ample time covering the matter in prayer, interceding for His will, and checking their own attitude.

Secondly, submit your concern to your spiritual authority with a right spirit. If you must, go to your pastor—but go with a humble, submissive attitude. Instead of being forceful, be teachable. Ask him to help you understand why "such and such" is being permitted or if he has considered another perspective. Many times, a pastor will reject a suggestion out of hand because of the spirit in which it was presented. Conversely, if you present an idea with meekness, he will be more inclined to accept it because it has a quality of godliness and goodwill upon it.

Thirdly, refrain from using the phrase "God told me to tell you" or "God showed me." Clearly, scripture does show that God speaks to people today, and you may sincerely believe He is speaking to you. But, the wise communicator understands such statements can seem manipulative. In other words, some so-called "prophets" assert divine authority to compel others into agreement. They are removing any option for disagreement—and if one does disagree, the prophet can salvage his self-respect by labeling that one as ignorant and unspiritual. If your word really is from God, let the wisdom and power of the word speak for itself. Why should anyone need to be convinced of its authenticity or intimidated into accepting it as "a word from God?" Instead, follow the words of James 3:17 that says, "the wisdom from above is peaceable, gentle and easy to be entreated."

Ambitious and aspiring leaders must be very careful when opposing spiritual authority. You may sincerely want to correct a wrong. Perhaps you truly have heard from God and want to assert your revelation. Maybe you are wiser and better equipped than those who are authorities over you. But beware, the situation before you may not be as obvious as you think. It may seem like Samuel is late and it's up to you to offer a sacrifice; but it could actually be a test designed by God to purge you of spiritual presumption and reveal if you are qualified for greater promotion.